If you had asked me at the outset of my journey to predict a community that I would embrace, I would not have guessed that it would be Shawnee, Oklahoma.  I did not see this coming.
Even before the food arrived at my first meal, the signs were there.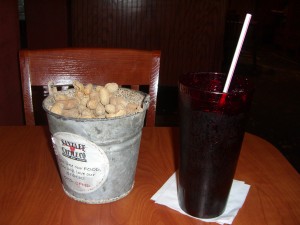 Now, I realize that it may be difficult to gauge the scale from the photo, but allow me to interpret.  Here in Shawnee, beverages start at 32 ounces and they bring unsolicited peanuts.  I love these people.
I found this community to be warm, engaging and kind. 
However last night, as I was looking to select a church to attend this morning, some red flags went up.  By one count, there were over 56 churches to choose from in a community of less than 30,000 people.  For my bay area secular's, I offer the following reference point.  Palo Alto, California is a community of over 62,000 and has 33 churches.
A closer look was even more alarming to this west-coast-inclusive Presbyterian.  Thirty of the 54 churches were Baptist.  Now, the presence of the Oklahoma Baptist University is clearly an influence.  However, Shawnee is also the home of St. Gregory's University, a Benedictine Catholic institution, and the result is only one Catholic church.
I feel the need to explain my reaction to the Baptist dominance here in Shawnee.  It is awkward to admit to.  It is revealing and it is relevant.  As much as this trip is about the political continuum and resulting dialog, for me it is also about the state of the church.
For many progressive Christians, we have felt that the conservative churches have co-opted our faith.  By interjecting a social agenda that does not reflect our beliefs, many have come to feel that the greatest messages of our faith have gotten lost in the misguided and single issue focus of the right.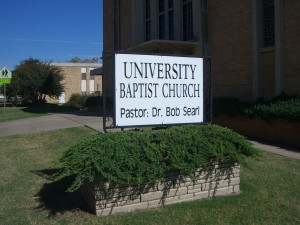 And so it was that I cautiously entered the University Baptist Church on N. Kickapoo Avenue in Shawnee.  To say that I was greeted warmly is an understatement.  Admittedly, I stood out.  I was the only woman with hair still damp from my shower (Shawnee woman are well coifed) wearing motorcycle boots. 
The service today was led by the youth and the theme was, ironically,  Unity:  One body, many parts.  A young parishioner named Raye Reeder used tangrams to demonstrate how many different shapes create a whole.  She went on, cleverly, to show how those same shapes can create many forms.  It was charming and impactful.
Stephen Whitmore, a high school senior, delivered the sermon.  Here in this Southern Baptist church, he called for the left and the right fractions of the church to come together.  He spoke eloquently of meekness and patience. 
Following the service, Pastor Bob Searl and congregant Mary Chancellor graciously agree to an interview.  They both speak beautifully to the special nature of the University Baptist Church. 
So this is what I found in Shawnee.  A congregation focused, not on politics or social agenda, but on service. 
I like it here.