I am getting so close. 
It shouldn't be a surprise that at this stage of the trip, reflection becomes a bit of a preoccupation.  I find myself musing on the places and people who have touched each day. 
The waitresses who steered me away from the soup I really wanted with the a simple raised eyebrow.  The garage mechanics who insisted on rechecking my tires just to ensure that I read the gauge accurately.  And the countless hotels clerks who kindly suppressed their shocked looks at the sight of me in my lovely yellow rain gear and a full day's helmet hair. 
But mostly, I find myself thinking back on all those people who stumbled on me at my lowest points.  Who, at once, recognized my exigency and selflessly responded. 
Please meet Charley Cox.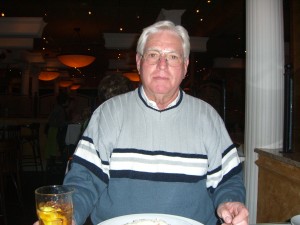 Charley was born and raised in Knoxville, Tennessee.  Married twice, his daughter Natalie is an accomplished artist living in New York City.  Having worked for Peterbilt trucks, he is a master mechanic specializing in vintage and Boss Hoss Motorcycles.  The latter being a 1500lb specialty bike that you have to see to believe.
A Boss Hoss is to a Honda Reflex what George Carlin is to Carrot Top.
But I digress.  Charley joined the ranks of my roadtrip angels when I was working out backup plans to the weather.  He not only provided encouragement, he introduced me to the incredible motorcycling community in Knoxville.  And if that wasn't enough, to ensure that I could make it to Washington, Charley personally provided a tow.  Simply amazing.
And finally, courtesy of an email from my sister Debbie, please consider this wonderful piece from Bill Moyers on the importance of community and music.