Contrast (kən-trāst', kŏn'trāst')  To set in opposition in order to show or emphasize differences
Visually, New Mexico geography defines contrast.  From the rich color stratifications to the jutting rock formations,  you experience it but it is hard to feel a part of it.  Meteorologically, you have to disavow yourself of everything you think a desert should be.  This is high desert.  And it is cold.
The multiple layers that I packed simply did not cut it today.  There is cold, and then there is 60 mile an hour cold.  I am learning.
During my many attempts to warm up today, I was able to speak with a variety of people.  I would like you to meet Barbara Gordon from Gallup, New Mexico.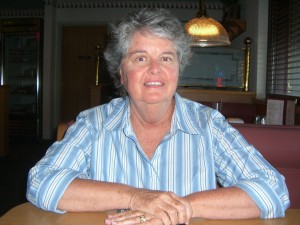 Barbara Gordon is a study in contrasts.  She comes from a long tradition of military service.  Her father was a fifth generation career military man and her maternal grandfather was a General in a family of Generals.  She traveled the world and decided to settle in Gallup because it had 'the best stars' and a '360 degree sunset'.  Here, she worked for 28 years as a teacher and principal at the Zuni Pueblo Reservation.  She raised two children and now works with the Navaho tribe.  She speaks with equal eloquence of her support for Obama and the need to be more effective with our Federal funding programs.  Barbara has always wanted to see a woman in the White House.  Just not Sarah Palin.
Finally, I would like to introduce Mary and David Workman from Yorba Linda, California and Donna and Ron Workman of Williams, Arizona.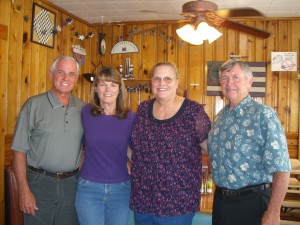 We met at Old Smokey's Pancake House and Restaurant.  David and Ron are brothers and share political leanings.  They were warm, kind and open.  And while they describe themselves as staunchly conservative, as you will hear, it isn't that simple.  Listen for the contrasts.
(Ron speaks first)