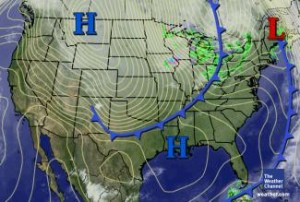 I am sulking.
When I originally conceived the idea of scootering across country I carefully proclaimed, in my most zen-like manner, that I would be willing to accept whatever the outcome.  If I only made it as far as Modesto, so be it.
And so it is, that I find myself just east of Knoxville, Tennessee facing the very real possibility that I may not be able to complete this journey.  Upon my arrival and the requisite weather.com check in, I discovered that the high pressure system that is creating so much havoc in the midwest is going to cost me at least two days of travel.  If the high winds persist past that, I will simply run out of time.
There is nothing spiritual or even marginally adult in my reaction.  I am pitiful and bitter.  After 2,460 miles of eating diner food, washing my one set of clothes in the sink of a Days Inn in a town where the only other choice was a Motel 6, and regularly losing the feeling in the last three fingers of my throttle hand, I am invested. 
And seriously, if one more local person says to me 'yeah this <insert today's meteorological freakness here> never usually happens this time of year'  the next time you see me will be a CNN perp walk. 
Tantrum off.  I will figure this out.
While there may have been difficulties, there were also gifts.  Today it came in the form of deepening autumn colors and sharing my lunch with Clarence Pickel.  Aside from a name that just makes you smile, Clarence's family pre-dates the American Revolutionary War.  We met at the Huddle House in Kingston, Tennessee.  A war veteran and widow, Clarence is soft spoken in a noisy environment.  Off mic, there was an endearing softness to his voice when he spoke about his daughter, Rachel.
It was the nicest part of my day.