It is no accident that our most poignant moments happen when we least expect them.
Yesterday, facing limited time and a plethora of tourist options, from Graceland to the ducks that stroll through the lobby of the Peabody Hotel, I set out by bus to see Memphis.
Let me start my stating clearly that, unlike my hero Sarah Vowel, I am not enamored of historic assassination sites.  My inclinations are toward places of achievement (Monticello), accomplishment (Independence Hall, Philadelphia) or beauty (Taj Mahal).  Assassination.  Not so much.
And so it was that, as my bus turned the corner on a nondescript street in Memphis and the familiar motel came into sight, my reaction was unexpected.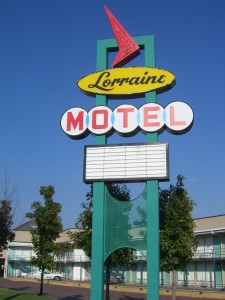 I was not quite 10 years old when Martin Luther King was assassinated at the Lorraine Motel.  Though I would have to wait several years to grasp the significance and full weight of this national loss, it strikes me today that it may be impossible to really conceive.  The car that Reverend King was driving that day is parked, timelessly, and the site is maintained so meticulously that, for a moment, you are there.
And while I can study the history and the context, the full measure of that single event is impossible to grasp.  I left feeling very small.
The next day, I reconnected with Debra Rieves.  Debra was the first person that I met here in West Memphis and, as you will hear, it was a blessing and a joy.  She is a walking testament to southern hospitality and a delightful force of nature.  What I did not know was the significance of this moment in her life. 
I left feeling very moved.