My day started this morning when I met Joey from Brown's Motorcycle shop in Paso Robles, CA. Joey's family pre-dates the railroad in these parts and you get the sense that he has forgotten more interesting stories than most of us will ever live. He was, however, microphone-shy and it was with grudging respect that I pulled away from his shop, with a new throttle grip and no interview.
Sadly, I have to report that my treasured VOTE flag went missing yesterday. It is unclear if it was stolen or fell off during my ride, but I have chosen to believe the latter. A little heartsick, I took off over Hwy 46 toward Bakerfield. It turns out that the charm of the back roads can also inspire ambivalence. Eighty eight miles of two lane, gravel shouldered, highway with lots of trucks can make you long for an interstate. The quaintness of a roadside cafe cannot make up for those moments staring at 3 oncoming semis whose wind gusts will make you more than willing to settle for a Quiznos next time.
My ride ended with the zipper on my new motorcycle jacket getting jammed so that I could not remove it. There is more to this story, but I will spare you. Suffice it to say that I found my way to Levie's Tailor shop in Bakerfield where Levie herself freed me from my confinement. Now, the perfection in this moment was that Levie offered to make me a new flag for my bike. I quickly located a fabric store and took her up on her offer. I am one print shop and hardware store away from having my flag back. Very sweet.
Be assured that I did not forget my interviews today. Please meet Breta Yarborough.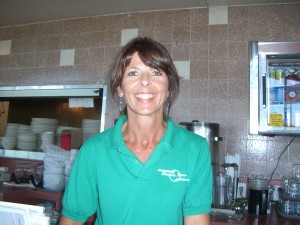 Breta works full time as a third grade teacher and has two teenage children. We met while she was working at her second, or should I say third, job as a waitress at Margie's diner. An independent who is undecided in this election, Breta is torn between her conservative views and her concerns for the state of our educational system. She was gracious with me, if a little bit shy.
Finally, I would like you to meet Amy Shivers. Also a waitress at Margie's diner, Amy just moved here from Anchorage, Alaska this past January. A soft spoken women in a noisy environment, Amy was direct with a rare candor. She is mere 37 years old and has a grandson and a willingness to talk about both.
[Click the play button below to hear the audio]