If my aim on October 5th when I set out on this journey was to get out of my comfort zone, I may have overachieved.
What follows are the indicators.
1.  It is so cold that I am willing to look like this,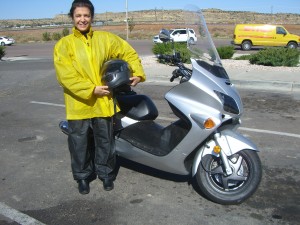 I am wearing long underwear (top and bottom), jeans, 2 additional shirts, a fully padded motorcycle jacket, rain pants, rain jacket and no makeup.  Note - this photo was taken by a lovely man who had never used a digital camera and who, despite several attempts to demonstrate, kept looking through a non-existent view finder. 
2.  I am so happy to be warm that I am unfazed by the breeze that inflates my bright yellow jacket, effectively making me look like an oversized Easter Peep speeding across New Mexico.
3.  The following interview exists.
In search of a place to warm up, I pulled off in Grants, New Mexico.  Not wanting to stop at a fast food place, I found the Econo Lodge and Restaurant.  I was the only customer and I struck up a conversation with the restaurant manager.  A young man named Greg Chapman, he was engaging and informed.  But it was hard not to notice an intense older man sitting in the corner.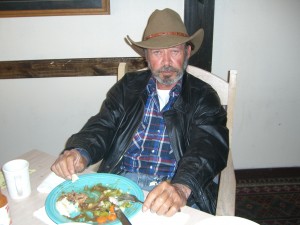 Please meet Alfredo Mirabal.  The owner of the Grants Econo Lodge and Restaurant, Alfredo is a rancher by trade, his life story and worldview among the most unique that I have found.  If my challenge when I started this journey was to stay engaged (without evangelizing) in the face of opposing views, Alfredo is my Kilimanjaro.