Travel lessons from the road. Do not sit with a retired CHP officer at breakfast if you are riding a scooter in the desert.
It turns out that they are uniquely qualified to terrify you in ways that the un-uniformed cannot. I set out this morning toward the Tehachapi range in full knowledge of the winds that rail on both sides of the mountain. The result was 50 minutes of alternating between reciting the Lords Prayer and singing Amazing Grace loudly into my helmet.
Yes, I got tossed a little, but it was a spectacular ride.
This evening I was excited to go to DiNapoli's Firehouse in Barstow to eat and watch the debate. Although the background music was so high, it was difficult to hear the TV and impossible to record the conversation, the food was great. It was here, however, that I encountered the first evidence of the rage that can be just below the surface of this election. I was engaged in a conversation with a couple from Sacramento, a local veteran named Dan and his best friend. Dan is working at Edwards Air Force base as a contractor. Suddenly, a man from another table approached our group and, leaning into Dan's face, indicated that he had no business talking with us. He loudly instructed him to read the book 'Liberal Fascism', as it would tell him everything he needed to know. For the next 30 minutes, his anger grew as did his outbursts. I wish I could adequately capture the sadness of knowing his frustration and simultaneously feeling inadequate to reach out to him. When Dan and his friend left before the end of the debate, I decided their escort to my scooter might be a good idea, and followed them.
It is with this encounter in mind that I would like to share with you my interview with Michael Loughran.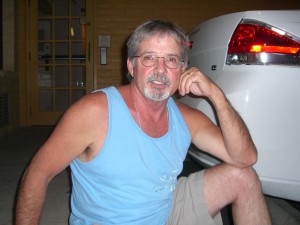 Michael lives in Vista, California with his wife. He has grown children and is a sales rep for an engine company out of Tennessee. A kind spirit, he was raised in a staunchly Democratic household and after supporting Gore, Michael determined that he is much more aligned with the GOP platform. We talked at some length, which necessitated my clumsy editing. If you can look past that, you will hear his poignant story of a friendship lost over these politics.
[Click the play button below to hear the audio]
Let me be clear. The examples of fractured relationships and expressed, as well as suppressed, rage are felt on both ends of our political continuum. What reveals itself in these conversations is that most people want it to be different. My sense and hope is that it will be.
On a lighter note,
VOTE flag update: For Katie and Daniel, I promise to post a picture of the new flag as soon as I am able to get it printed and secured to the pole. Turns out that there are no Kinkos here in Barstow and it is not looking good for Needles tomorrow… a subject for another day. Thanks for your encouragement and love.