Tomorrow is an important day for me. Near the end of my ride, I will pass the mid-point of this trip and be facing fewer miles than I have traveled.
The psychological impact is notable.  As with all challenges worth the effort, this one comes with profoundly moving moments that at times get lost in the chronic leg numbness, unnatural proximity to road kill, foreign insects, and acts of nature that could make a person of lesser faith question their God.
It is a peculiarity of this kind of quest that it generates from your noblest self,  but exposes your least attractive.
And then, another moment.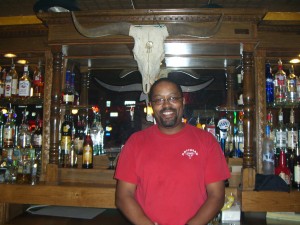 Please meet Myron Stiles  A bartender at the HoffBrau Steakhouse, Myron is working toward his teaching certification and a Master's program in Education Administration.  Born and raised in Amarillo, he has an easy style and the good ear that comes with his profession. 
And so, these moments ease the ride.  Nice.