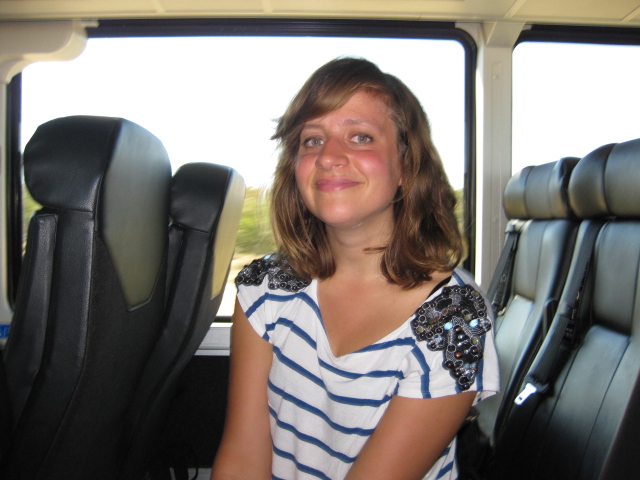 There is a lot that is right about buses. Â I am happy to report that Greyhound express buses are appointed with comfortable seats, no-fuss wi-fi, AC power in every seat and staff that are engaging and helpful (I'm looking at you Gordon and Duwan).
Today I met Alix Aylen. Â Cool name aside, Alix's story is compelling. Â A Canadian, Alix is 25 years old and possessed of an adventurers spirit. Â She left her home in Toronto with her bike in pieces, took a train to Vancouver where she reassembled it, and set out (alone) to ride to San Francisco. Â En route, she met Bobby (check him out at tallbikebobby.blogspot.com) and, well, it was the start of a beautiful friendship. Â Alix plays trumpet, a skill that payed for her bus fare, and is a graduate of the University of Toronto. Her passion is public green space design and, as you will hear, she is thinking of 'coming to America' in the literal sense.
[rtmp3 url="https://dl.dropbox.com/u/108166614/Audio2012/Alix%20Aylen.mp3" title="Alix Aylen"]
Which brings us to, what I suspect will be a recurring segment on these posts,
Crazy sh#t that happens on the bus
Our comfortable ride morphed slowly as the air conditioning died a gradual death and left us sweltering for the last 120 miles. The initial reduction in ventilation resulted in the staff realizing that someone was smoking in the back of the bus. The wacky kind of smoking. A warning was issued. Twice.
We were close to LA when the second infraction occurred. This time in the bathroom. Infuriated, the staff announced that LAPD would be waiting at the station. And so, we arrived to LA's finest.
Yes, life can get crazy on the bus.