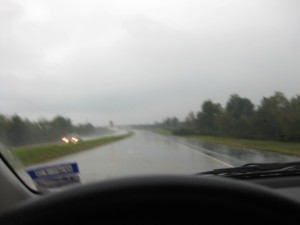 Sometimes you hear the stories and sometimes you get to just live them.
Not wanting to brave a 17 hour Greyhound ride, I decided to rent a car for this leg of the journey. Â It was a bit overcast as I left the hotel and I shared my ride and story with 'William' the shuttle bus driver. Â A imposing, but gentle man, I am guessing he was in his late 40′s. Â He works,
As a shuttle driver for the hotel, early mornings
For the City of Tulsa, maintenance, rest of day
Landscaping five homes, weekends
And providing in-home elder care in the evenings
Four jobs to support his wife and 2 sons, one of which is disabled. Â He would, by his request, remain nameless, photo-less and off mic for fear of losing his job with the City if they found out was employed elsewhere. Â When prompted, his only concern was "making it though another day". Â 
He is not a fan of Mitt Romney.  Succinctly he said that Romney "makes that kind of money, doesn't work as hard as I do…  and pays less in taxes".  Still, his response when asked if he sees brighter days…. "Oh yeah" wide smile, "absolutely".
I got in my rental car, a Mazda 2 (did you know they went down to 2?) that weighs only marginally more than my washing machine, but with a lot less pick up. The sky got darker and about 30 minutes later, opened up with a deluge that reduced my Mazda 2 windshield wipers to a toy-like appendages,
I made my way slowly, nervously until about an hour later, me and my Mazda emerged on the other side. Â A truth from the road – If you are traveling East on I-40 and manage to get ahead of a storm, you
keep moving
.
Hungry? Â Buck up. Â Need a hairbrush? Â Get over it. Â Keep moving. Â It only takes a glance in the rear view mirror to see the dark clouds and lightning. Â Keep moving.
Our country has been through a relentless storm.  Two wars economically compounded by two huge tax cuts and a financial collapse brought on by a banking free-for-all.  So when I hear a party platform that touts decreased regulation, decreased taxes, increased military spending, served up a with jingoistic middle east  topping, all I can think is, keep moving.
Please America, keep moving.
Unrelated but somehow important. Â Just as I was crossing the Memphis-Arkansas Memorial bridge over the Mississippi River, this came on the radio (seriously),
[rtmp3 url="https://dl.dropbox.com/u/108166614/Audio2012/Heartbreak%20Hotel.mp3" title="Elvis Presley"]