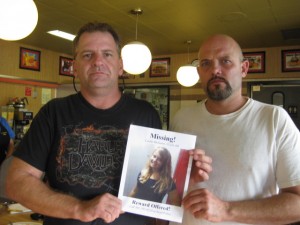 You can see it on their faces. The fear, determination and lack of sleep. A waitress at the Waffle House pointed in their direction. They were distributing posters and looking for anyone who might have seen Caelie. They paused for coffee and told me their story.
Caelie McGuire is 14 years old (her birthday is today) and has been missing since October 4th from Louisville, Kentucky. She left home with a troubled friend but they have good reason to believe that she might be in the Nashville area. Her father, Craig T. McGuire is joined in his search with his life long friend, Eric Price. They are using every resource, every agency to help find Caelie. But they could not sit at home. They could not wait.
They tell their story so much better than I can,
[rtmp3 url="https://dl.dropbox.com/u/108166614/Audio2012/McGuire%20and%20Price.mp3" title="Craig McGuire and Eric Price"]
It seems small to even make observations about this moment. My gratitude that they would let me in, allow me to sit with them, is exceeded only by my profound hope for Caelie's safe return.
If you have any information about Caelie McGuire, please call 502 795-8224