As the days wind down, my greatest regret is that I could not capture the most compelling aspects of this journey for you.  The discussion, laughter, and candor that often occurs only when the camera is turned off.
Today was no exception.  I pulled off in Lyman, Wyoming when I caught sight of a weathered Cowboy Cafe sign to my right.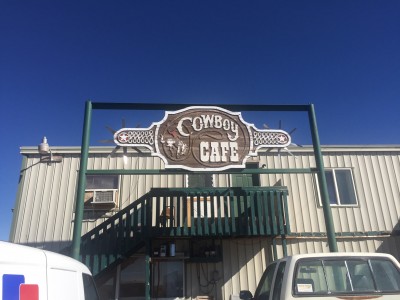 Probably the best representation of a 'local' cafe it is in possession of the absolute best Green Chile Stew to date.  This accomplishment just steps away an independent gas station and the interstate cannot be overstated.  It is filled with locals and enjoys a staff that is friendly and connected to this distinctly Wyoming community.
Please meet Tyra, recently engaged and from Colorado originally, her insights on Lyman and what really matters here is remarkable.
What I love is that this perfectly captures two repeated themes.  It starts with a dire hyperbole (doomed) and then the top of mind single issue (guns) that concerns the speaker and, in this case, the community.
But my favorite part occurred moments later when my camera was placed on the stool beside me.  Tyra explained the importance of being able to protect yourself in a rural area.  When the subject turned to background checks, gun registration and semi-automatic weapons bans, we were surprisingly in alignment.  When I mentioned that my understanding was that Hillary did not want to ban guns, but to enact legislation in these three areas, there was a pause.
And like Mr. Beasley, it probably did not indicate agreement.  But it was cool.