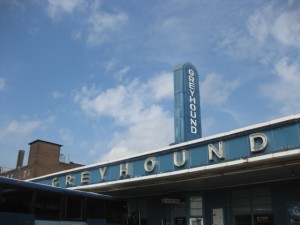 Confessions are tricky things. More than just the unflattering revelation, the public admission, when done correctly, should inspire concrete change. This is my attempt at both.
I am winding down my second journey through these United States and, both times, I have struggled with my ability to present the unattractive aspects of my experience. Oh, I can tell the cool stories. I am particularly good at the inspiring ones. But capturing the ugly shadow side, this is my personal nemesis. When I stumble upon the darker revelations, I will often not acknowledge, or worse, simply avoid writing about them. That stops with today's post (and tomorrows, cause there is more). Here goes,
Bus drivers are mean. It took me several states to see the pattern and you need to know that I do not make this observation blithely. They are mean. Not the lovable curmudgeon Archie Bunker mean. This is the cruel, utterly disdainful, school yard bully mean. And it is not just some of them. By my count I have had roughly 35 different bus drivers as most days have required transfers that create the opportunity to experience two of these nightmares in one day. Of these, I can attest that about 5 have been a genuine delight. Another 10 (and I am being generous here) are simply no-nonsense, get the job done kind of drivers. But, if you are boarding a Greyhound bus today, by my calculations, you have a better that 50 percent chance of encountering one these little monsters.
(that was hard to write)
Allow me to be more specific. These are people who, from the moment of taking your ticket and throughout the ride, will handle each encounter with as much contempt as they can muster. I have seen passengers bullied for being confused, for their language skills, for not moving fast enough. I have watched as two young men were 'put off' the bus for a perceived disrespect. Any direction is given as an order and never, never a request.
(super hard to write)
Upon first observation, I was inclined to give the driver a pass. After all, dealing with an unruly clientele (you might recall our pot smoker from the first day) and a high felon to registered voter ratio, it could make a person cranky. But here's the thing… after the initial incident, there was not one even remotely out of line passenger that I observed. Let me be clear. We are talking approximately 7280 miles resulting in over 146 total hours on the bus. Not one incident. In fact, it is fair to say, that the clientele on the Greyhound buses out-civilized any air travel experience that I have had.
So how did this happen?
It seems that historically bus drivers have always enjoyed the ability to put offenders 'off the bus'. I suspect this was done as a response to infractions that were clear and tangible. Somewhere along the line, Greyhound altered their list of infractions to include any behavior that the driver deems disrespectful. And they were off. With no checks to add balance, a tone, a look, and as I discovered, quietly taking a cell phone call, were justifications for all manner of outrage. Absolute authority given to a people whose filters are preset to 'offense'.
Why does this matter?
Because we have, as a group, silently allowed circumstances to justify uncivil behavior. The expectation of respectful resolution of conflict has been completely abdicated. We have sat by, in the name of safety, and not questioned all manner of unreasonable behavior. It is not okay. It is not okay.
(this was really hard to write)