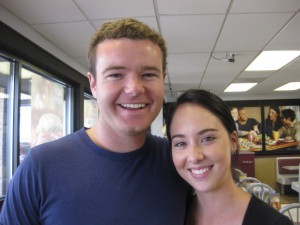 I started out this morning with the expressed objective to find a Republican and record them.
It was only a few days into this trip when I realized that while my Greyhound community spans several demographics, it does not include our conservative brethren. With time, I became comfortable with this reality and decided to embrace and present it as it is. However, when I failed to emerge with any recordings from the rally yesterday, I re-doubled my efforts today.
But then I met Adam Shultz and Cassandra Shephard. Australian nationals, they have been traveling the world for four months, and will be here in the U.S. for six weeks for the purposes of volunteering in support of Obama/Biden 2012. Seriously. They have been traveling to key swing states and working rallies, knocking on doors, whatever the campaign needs. They are recent graduates, passionate and extremely well informed on world affairs. They demonstrate a level of commitment that would be admirable if limited only to their own country. But to bring their talents and enthusiasm to our country, our election… simply extraordinary.
These two young people stopped me dead in my tracks and today I am adding my word to our Mind Map. Hopeful. Absolutely hopeful.
[rtmp3 url="https://dl.dropbox.com/u/108166614/Audio2012/Adam%20and%20Cassandra.mp3" title="Adam and Cassandra"]