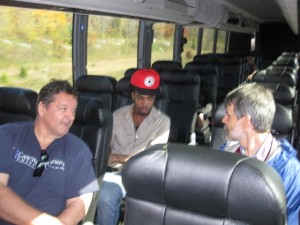 It's time for some observations. Day 18 and trends are emerging. For starters, I do not know where the Republicans are, but they are not on the bus. From the first day, and through the reddest of states, it has been a scramble for me to find conservatives to talk to. I share this with sincere sorrow and surprise. Yes, some of you might be uttering a collective 'duh', but this has truly been a revelation to me.
Also, you know that elusive 'undecided' voter… they are on the bus. While estimates indicate that only 1-3% of eligible voters have not made up their minds, my unofficial tally is closer to 30% of Greyhound riders are undecided. Listen up, campaigns… forget the ads, rallies, photo ops. Get on the bus. Really. The bus.
Today I am submitting the first intentional multi-person interview of this trip. Yesterday, for the first time, I found myself traveling on a nearly empty bus. There were less than a dozen people riding from Cleveland to Toledo and it was my good fortune to sitting with Bruce, Diante and Gaia. Bruce is an IT specialist in the banking industry, Diante a student and Gaia a nurse practitioner. We talked for almost 2 hours and only a few segments were recorded. While this created an editing nightmare, I hope that the result captures the sheer joy and magic that happens when we come together to discuss issues of the day. It is, at its essence, exactly why I love doing this.
(Gaia is first to speak and starts with his thoughts on Obamacare)
[rtmp3 url="https://dl.dropbox.com/u/108166614/Audio2012/Bruce%2C%20Diante%20and%20Gaia.mp3" title="The boys"]