Is it even possible to see the Oklahoma stateline marker and not start singing Oh, oh, oh, oh, (oh, you know the rest)?
After nearly 1000 miles of high desert, Oklahoma announces itself early.  Green landscape starts to appear about 20 miles before the stateline and lone trees begin to group together so that, slowly, the sight of them does not seem so foreign.  
At noon today I stopped in Groom, Texas.  A small town, my only visible choice was a Dairy Queen with a lot of trucks parked outside.  It turns out that this is the spot in Groom.  I sat for over an hour watching as locals entered and greeted each other.  I estimate that there were over 40 people eating their lunch at the Dairy Queen today and the warmth and camaraderie was palpable.  Sadly, they were mostly microphone shy, but I found myself wishing I were an insider in Groom.  Good people.
It must be added that Groom is also home of, by its own claim, the largest cross in the northern hemisphere.  A sight that is notable, if incongruent.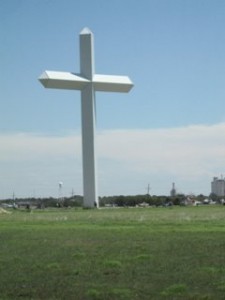 I made it to Elk City, Oklahoma and was at dinner when I met a man named Dennis and his wife.  Although also microphone shy, Dennis suggested that I talk to his sister Sherry and offered to call her to arrange a meeting.   Sherry Wright was kind enough to put her plans aside and came to meet me with her daughters Christina and Brianna.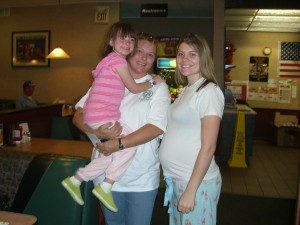 Here is the thing about returning to familiar scenery.  It can lull you into a false sense of the expected.  My interview and time with Sherry and her daughters was anything but expected.  Sherry is married and owns her own trucking business.  Born and raised in Elk City, she is a passionate Obama supporter and speaks candidly of being blue in a red state.  Her daughter Christine is 17 (18 in 6 days, she is quick to point out), articulate and pregnant.  Their views on choice and this election are striking. 
(Sherry speaks first)
Sit alone and talk and watch a hawk
Makin' lazy circles in the sky